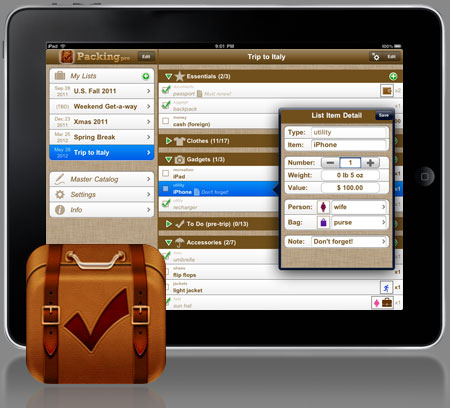 December 17, 2012 - QuinnScape is proud to announce that its Packing Pro travel app is now the top, #1 paid iPad Travel app in the U.S. App Store. This is a huge milestone for Packing Pro, and it comes on the heels of the honor of being chosen by Apple as one of its "10 Essential" iPad Travel apps. In addition, Packing Pro is also now listed in the App Store's holiday "Traveling Home" promotion for both iPads & iPhones as well, and as one of only five of its "Apps for Travel" in its App Stores in Canada, the U.K., Germany, Italy and 51 other countries around the world.
Since its launch over three years ago, Packing Pro has been highlighted on Apple's App Store several times. It was featured in summer 2012 ("Plan Your Vacation"), winter 2011 ("Traveling Home" and "Staff Favorite") as well as in the summer 2009 "Travel Guide" promotion. It has also often placed high in the top 10 rankings, peaking at #2 for iPads and #3 for iPhones, before today's first time #1 ranking.
Besides Apple, Packing Pro has also been recognized by CNN, the BBC, Budget Travel, The Chicago Tribune, National Geographic & American Express' Travel + Leisure (two years in a row) as one of the best travel apps for the iPhone, and was chosen as a finalist in both the 2010 and 2011 Best App Ever Award competitions. Packing Pro has earned glowing reviews on major tech & app blogs (Gizmodo, Mashable, CNET, 148Apps, iLounge, TUAW & iPhone Life, among others).
Packing Pro is a digital packing list that features an extensive, customizable catalog, several handy sample lists that can be used as templates, and unlimited, 100% customizable packing lists. A host of special functions include:
Multi-item selection for speedy list building
Collapsable categories with floating headers & running item tallies
Numerous packing list sorting & display options
Weight and value totals
Send to email for print out & file sharing
Import / export to other Packing apps and devices
Recovery of deleted lists and categories
Extensive in-app instructions and feedback options
Fully customized device support for iPhones, iPod touches & iPads
Full multi-lingual support for English, Spanish, French, German, Italian, Japanese & Chinese (both traditional & simplified)
Besides the core features listed above (which are also present in the basic Packing app), Packing Pro also gives its users great iCloud auto-syncing support, complete control over the look and feel of the app (themes, layout, fonts, colors, textures), a double-sized Master Catalog with over 800 items and to-do tasks, an Expert packing list wizard that can "automajically" help you create a customized list, twice as many sample lists, Smart Search, and iTunes & email file sharing & out-of-app editing support.
After nearly four years of constant updates and improvements, Packing Pro has finally claimed the #1 top ranking spot for iPad travel apps in the US. App Store. It truly is an honor to be recognized by both Apple and the general public in this way. If you plan to do any traveling over the Christmas holiday season, check out Packing Pro for yourself today!
Pricing and Availability:

Packing Pro is a universal app (like two apps in one!) that is available for purchase worldwide on the iPhone & iPad App Store for only US$ 2.99, or the equivalent in local currency. The basic version (Packing) sells for only US$ 0.99. App Store promo codes are also available upon request for press & bloggers around the world.