ABOUT QUINNSCAPE
Since its founding in October 2008, QuinnScape has been managed by Quinn Genzel. Quinn is best known for his popular, top-ranking travel packing apps: Packing (+TO DO!) and Packing Pro. Packing Pro has been recognized by Apple, CNN, WSJ, BBC, The New York Times, National Geographic, Expedia, Budget Travel, Fodor's, CNET, Macworld and a host of others as one of their top apps for traveling. Other app created by Quinn include a grocery shopping list app (Shopping Pro), nature appreciation apps (iLove Nature and iLove Birds), 3D VR action games (R.I.P and Ghost Buddy) and high-quality puzzles (the aQ's Pro Slider Puzzle series).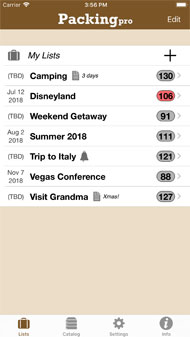 CONTACT / MEDIA
Quinn Genzel
@QuinnScape
twitter.com/QuinnScape
facebook.com/QuinnScape
pinterest.com/QuinnScape
support@quinnscape.com

Download hi-res icons & screenshots HERE.
Promo codes available for press & bloggers upon request.
PRESS RELEASES
Packing Pro 13.4 Adds COVID-19 Tasks and Items for Smarter, Safer Travel
June 22, 2021
Packing Pro Celebrates 10 Years on App Store with Anniversary Sale
April 26, 2019
Packing Pro 13.0 Summer Update Adds Great Editing Options to Travel App
June 6, 2018
Packing Pro Travel App Adds Emojis for a More Fun, Personal Experience
December 15, 2017
Packing Pro Travel App Gets More Flexible in Pre-Summer Update
May 23, 2017
Update 12.1 Strengthens Editing Capabilities in Packing Pro
Feb. 6, 2017
The New York Times Recommends Packing Pro as a Travel App Worth Downloading
June 30, 2016
Major Revamp Streamlines Packing Pro, Adds Search & Sort to In-app Catalog
May 17, 2016
Packing Pro Celebrates Its 7th Anniversary on the App Store
April 19, 2016
Packing Pro Creator QuinnScape Celebrates 7th year on the App Store
October 21, 2015
Packing Pro Adds Powerful New Editing Features to iOS Travel App
September 28, 2015
Major Pre-Summer Update Adds Dropbox and AirDrop Sharing Support to Packing Pro Travel App
May 20, 2015
Packing Pro Celebrates Its 6th Anniversary on the App Store
April 16, 2015
2014 Was Another Great Year for Packing Pro
December 16, 2014
Packing Pro 10.1 Update Adds Support for iOS 8 and iPhone 6 and iPhone 6 Plus
October 9, 2014
Major Pre-Summer Update Adds Images & Alerts to Packing Pro Travel App
May 6, 2014
Major Update Adds Images & Alerts to Shopping Pro
April 29, 2014
Packing Pro Wins 2nd Place for Best Travel App in 6th Annual Best App Ever Awards
March 31, 2014
Expedia Recommends Packing Pro as one of Their Top 10 Travel Apps
Aug. 8, 2013
App Store Summer Travel Promo Features Packing Pro
June 19, 2013
Packing Pro Claims #1 Top iPad Travel App Spot in U.S. App Store
Dec. 17, 2012
Apple Recommends Packing Pro for Traveling Home for the Holidays
Dec. 5, 2011
---