"i Travel, therefore, i Am
... and how can you travel without Packing?"
-Quinn, 2009

★★ 2008 Winner of Excellence Award ★★
★★ from iPhoneFootprint.com ★★

THANKS EVERYONE FOR MAKING THIS:
#1 in Canada, Mexico, China, Japan & New Zealand
#2 in Australia, Italy, Malaysia, Phillipines & South Africa
#3 in the U.S., Belgium, Sweden, India, Chile & Indonesia

★ UNIVERSAL APP optimized for iPad, iPhone & iPod touch ★
★ Great Value -- like getting two apps in one! ★


** Spotlight demoed in Apple Retail Stores! **
** (see photo of ad) **


** Chosen by National Geographic as **


** one of the Top 20 apps for traveling. **
** (popup link -- see #11 on page 3) **


MEDIA REACTION:

The best iPad apps for traveling
-- appPicker

"Packing travel app gets major facelift"
-- iLounge


"So imagine the Nirvana I achieved with Packing, the travel app from Quinn Genzel. From the first moment I felt I had found my soulmate in an app developer."
"It works like a charm, does what it advertises, and is hands down my new favorite travel app. Bravo."
-- iPhone App Reviews
MORE MEDIA REACTION & REVIEWS
INTRODUCTION
Never forget to pack anything again! For less than the cost of a (*forgotten*) toothbrush or a pair of socks (and the time & hassle of replacing it on the road, or in the woods?), this iPhone/iPad app can be your very own personal packing assistant.
PACKING LIST FEATURES:
CREATE unlimited, 100% user-customizable packing lists
BUILD lists quickly & easily with multi-item selection
EDIT your lists however you wish (add, delete, rename or reorder any category or item)
DISCOVER new ideas & suggestions from included sample lists, i.e. typical male, typical female, light & super light
USE any list (sample or your own) as a template for future lists
ORGANIZE & MANAGE packing lists & Master Catalog using categories, types & items
MONITOR a running tally of total items per category & how many of them are checked off
COLLAPSE categories for less scrolling & better management
SORT items by type or item, or by hand yourself
SHOW only items that are packed or unpacked, or show them all
FILTER items based on person and/or bag
EDIT item details (number, weight, value, person, bag & notes)
ADD IMAGES & ALERTS to list items
TOTAL your list items, weights & values, by bag, by person & by category
SEE remaining items as badges on home page & app icon
PRINT your list directly to a printer with 1, 2 or 3 columns
EMAIL your packing lists to family & friends
CATALOG FEATURES:
CUSTOMIZE the Master Catalog with 100% freedom (add, delete, rename or reorder any category, type or item)
SELECT from hundreds of items for quick list generation with only minimal typing
ACCESS an extensive pre-departure TO DO list with over 100 actions
USE Favorites folder for quick access to common items
DEFINE you own categories, types, items & TO DO actions for more customized freedom & control
COPY & MOVE types and items throughout catalog
MULTI-EDIT your types & items (delete, move, copy or set) more quickly than one-by-one
CLONE categories for multi-person lists
RESTORE deleted categories, or even whole catalogs
OTHER KEY FEATURES:
VIEW comfortably on new iPads, iPod touches & iPhones running iOS 5, 6 or 7
IMPORT & EXPORT packing lists & Master Catalog (or parts of them) between apps (i.e. Packing to Packing Pro, or vice versa)
IMPORT & EXPORT content between devices (i.e. iPhone to iPhone, iPod Touch to iPhone, iPad, etc.) (*with the help of iTunes' sync or one of several available free, 3rd-party apps)
BACKUP your lists and catalogs by exporting the data out of the app
AUTO-SAVES better protect your work
REFER to a comprehensive in-app help guide
UPGRADE to Pro-level Catalog, Features, or Full Combo via in-app purchasing
If you desire better syncing & sharing options, display customization, a super-sized catalog, twice as many sample lists, & additional, built-in Expert assistance, then consider Packing Pro (in-app upgrade options also available):
PRO BENEFITS (in Packing Pro):
FULL iCLOUD SUPPORT:
-- device-to-device auto-sync support for lists, catalog & settings

CSV IMPORT / EXPORT:
-- edit your lists & catalog content on a PC with Excel, Numbers or Google Docs

PACKING LIST FILE SHARING & BACKUP:
-- share packing lists & catalog content with family, friends and fellow travelers via email (import/export) and iTunes' File Sharing

HUGE MASTER CATALOG:
-- over 400 new items (total of over 800), including extra items for babies, kids, pets, sports/activities, cooking & religion

EXPERT LIST ASSISTANT:
-- "automagically" create lists based on the number of adults (males & females), children & days, as well as temperature, destination, food prep & clothes washing preferences

CUSTOMIZABLE DESIGN:
-- includes app-wide themes, packing list layout & display choices, font choices, & nearly full control of all the colors & textures in the app (check out the screenshots!)

TWICE AS MANY SAMPLE PACKING LISTS (NOW 8):
-- including ones for couples, families, business people & campers

SMART SEARCH:
-- easy & intuitive search function

BETTER ORGANIZATION:
-- easy navigation between the four main sections (Lists, Catalog, Settings, Info)

Quick, simple & reliable, let Packing (or Packing Pro) be your helpful travel companion on all of your trips. Bon voyage!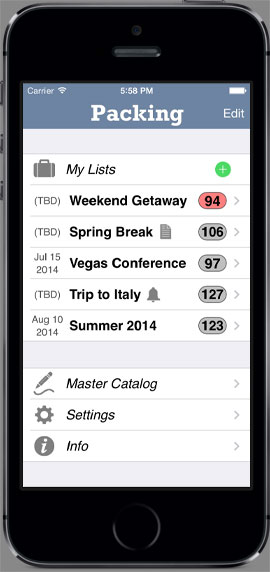 screenshots: iPhone / iPad


instructions & FAQ

check out Packing Pro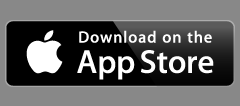 RECENT UPDATES

---




WHAT'S NEW IN VERSION 13.2:

- Added 'Management' section to Settings for Alerts, Photos, People & Bags
- Fixed alert/notification & badge bug in iOS 8
- Added extra icons for People, Bags & Categories (thanks for all the suggestions!)
- Added easier access to app permissions in Settings
- Added full support for 64-bit iOS devices
- Improved support for iPhone 6 and iPhone 6 Plus
- Improved iCloud auto-sync (for PRO users), though it's still recommended NOT to EDIT content on more than one device at the same time (viewing is OK)

Also, for PRO users using iCloud auto-sync on iOS 8, in case you haven't done so yet, please upgrade your device to iCloud Drive.

Thanks, too, for all your feedback & support. Your positive ratings, reviews & recommendations enable me to continue to support & improve this app. Stay tuned for more!



---




WHAT'S NEW IN VERSION 13.1:

Hope everyone loved the new list-item photo & alert enhancements in the last update. This one is all about iOS 8 and the two new iPhones. I've optimized the layout to take advantage of all the extra screen space on the iPhone 6 & iPhone 6 Plus. In addition, I've:

- Fixed a sticky-scrolling bug on several pages
- Fixed a swipe-to-delete bug on the packing list page
- Tweaked various functions to work well with iOS 6, 7 and 8
- Made improvements to iCloud auto-sync's stability & error-catching abilities (Pro-feature)

I'm very sorry if these bugs caused you any frustration, and thanks for pointing them out to me.

For the next update, do you have any suggestions for extra icons for categories, people or bags you'd like to see, or any other enhancements? Feel free to email me some ideas!



---




WHAT'S NEW IN VERSION 13.0:

This is a MAJOR UPDATE with two new features that I (and many of you) have wanted to add for a long time. They've made the app twice as useful (or 1000x!):

- **NEW** ADD IMAGES TO YOUR ITEMS! A picture is worth 1000 words!
- **NEW** ADD ALERTS TO YOUR LISTS, ITEMS & TO-DO TASKS!

And both work well with iCloud (for Pro-features and Pro-full in-app upgrade users)!

Data protection & backup improvements:

- Added a convenient '1-tap backup to email' function w/ reminders (Pro-feature)
- Fixed a bug affecting non-backed up data & device restoring
- Added extra backup protection & recovery coding
- Reduced size of data files to save space & speed up launch times & iCloud syncing (Pro-feature)

Other additions & fixes:

- Added reminders for missed alerts
- Added note & image icons to Master Catalog items, and image & alert icons to list items
- Now, reorder all your list categories in one go
- Fixed a bug affecting adding new people or bags (thanks, Pierre!)
- Fixed a rare bug involving old themes & crashing
- Fixed a rare start-up crashing bug
- Fixed a bug that kept asking for reviews in some cases (sorry!)
- Fixed a bug that in some cases prevented full editing due to locked scrolling (thanks, Keri!)
- Fixed a broken link to 'Gift This App'
- Fixed some language translation coding



---